PORTFOLIO MANAGEMENT SERVICES
Portfolio management is the delicate art and science of selecting and overseeing a group of investments that meet the long-term financial objectives and risk tolerance of a client, a company, or an institution.
Portfolio Management Services (PMS) is a customised investment product which invest in securities like equity, fixed income securities etc. Generally, it is offered to High net worth individuals (HNIs). Unlike Mutual Funds, The ownership of securities lies with the investor. It is managed by professional manager. Investors who are looking for an alternative to direct equity can look to invest in PMS. PMS provide comfort to the investors and generate superior returns in the long run. 
This structure allows the fund managers to take concentrated calls on their high-conviction stocks without too many regulatory and operational constraints prevalent in a mutual fund portfolio. It may generate a higher return for client as the fund manager will have greater flexibility to choose or hold stocks and capitalise on the market opportunities in the smaller and newer companies that may have the potential for high growth. This may lead to a higher risk, which may be best mitigated through a long-term investment horizon. This will be a good option for the client, since he is willing to set this corpus aside for his retirement. 
A sample of actual returns from a PMS Vs Nifty is shown on the right.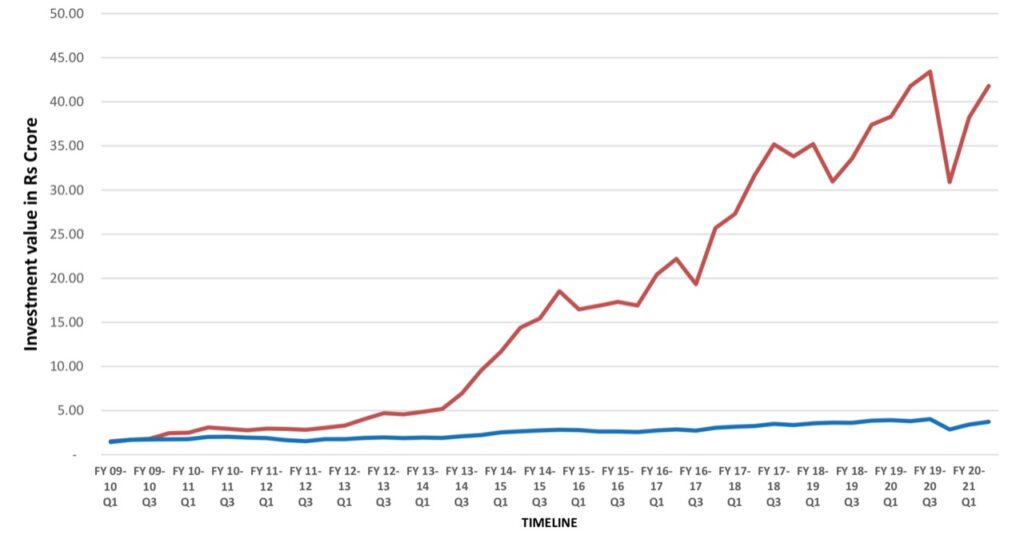 Advantages
Customised and personalised service on your requirement
Superior risk adjusted returns
Reducing risk via multi asset diversification
Managed by experienced professional manager
Liquidity
Tax efficient
Leverage
Digital portfolio monitoring
Disadvantages
Higher Capital Investment
Higher Costs
No Performance Guarantee
Our digital technology helps our customers choose from a wide array of PMS Strategies offered by various AMCs. Our financial and regulated partners will help you in identifying your financial goals & suggest the appropriate fit. They will also provide you an integrated end-to-end customised asset management solution forin terms of advisory service, discretionary and non-discretionary portfolio management services.